18th December 2018
John Boyle has been elected to succeed Sheila Nunan as General Secretary in 2019.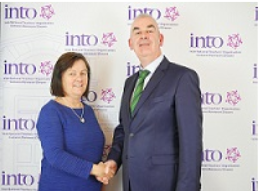 Irish National Teachers' Organisation General Secretary Sheila Nunan announced her intention to step down from the position in September 2019, triggering an election for a successor. Three candidates were nominated by INTO branches to contest the election which took place between November 26 and December 17 2018. 18,185 members of the union cast a ballot in the election. The results are as follows:
John Boyle, 9,542. 53%
Alison Gilliland, 5,112. 28%
Deirdre O'Connor, 3,493. 19%
Total: 18,147
Spoilt: 38
Total Count: 18,185
It is anticipated that John Boyle will take up office as General Secretary Designate in March 2019 and will take over as General Secretary in August 2019.
INTO General Secretary Sheila Nunan said, "I congratulate John on his election and look forward to working with him over the coming months as he transitions into the role of General Secretary. I want to congratulate too the other candidates in this election and their respective teams. Over the course of our 150-year history, the INTO has been proud to openly choose its leader in a fair and open ballot of the entire membership."
"It has been the honour of a lifetime to lead this union over the past decade. Whilst we faced perilous and often grave economic challenges, I am proud that we stood firm against the worst excesses of austerity-era government policy. Now that the country has recovered, we must lead the fight to end pay inequality for our newer entrants, we must stand up for our stretched school leaders and demand the investment in education necessary to deliver a world class education for our young."
INTO General Secretary Designate Elect John Boyle said, "I have a clear vision for the INTO over the next decade. We must be bold and ambitious in demanding the level of investment in education, North and South, that will remove the inequities that currently exist and give every teacher and pupil the room to bloom. We must grow in membership and influence, strengthening ties with sister unions and professional organisations and delivering
additional services to members.
I am humbled and immensely grateful to have received the support of so many members. Whether you voted for me, or one of the other fine candidates in this election, I will be your General Secretary. I intend to be a leader that brings members together and holds Government to account."