About our campaign
While some previous budgets have lowered the pupil to teacher ratio in our schools, class sizes in Ireland remain well above the EU and OECD averages. With 25 students on average in an Irish primary classroom, compared to the EU average of 20 or the OECD average of 21, its clear Irish students are losing out. Class sizes have a huge impact on children's learning with evidence showing that in smaller classes learning outcomes significantly improve.
Schools were directed to use extra resources to prioritise smaller classes for infant pupils, where smaller classes are deemed to have the most impact. Younger children benefit greatly from smaller classes – initial education lays the foundations for future learning, so smaller class sizes are especially valuable for the early years of education when children are developing literacy and numeracy skills. Evidence shows that children from disadvantaged backgrounds do better in smaller classes.
As part of the extra supports package available to schools in the DEIS Scheme (Delivering Equality of Opportunity in Schools) there is a lower pupil-teacher ratio in DEIS Band 1 schools of 20:1 in junior schools, 22:1 in vertical schools (schools with junior and senior classes) and 24:1 in senior schools. While the pupil-teacher ratio in schools was reduced in Budgets 2016 and 2018, there was no corresponding reduction made in the pupil-teacher ratio in DEIS schools. This has further narrowed the margin between DEIS and other schools.
The reduction in class size must be passed on to DEIS schools in order to provide supports for our most vulnerable children so that they may have the opportunity they deserve to achieve their educational potential.
The complexity of the contemporary classroom is such that, with larger class sizes, teachers are finding it extremely difficult to meet the broad spectrum of needs of children. When class numbers are of a more reasonable size, modern teaching methods work, and teachers are able to spend the time needed with children. The methodologies which are recommended are achievable in classes with smaller numbers and so the quality of teaching and learning is improved.
The cost of lowering primary school class sizes by one student is €4.5 million in 2020 and over the course of a full year amounts to €13.5 million.
(Source: Dáil Q&A no.170, 16 April 2019)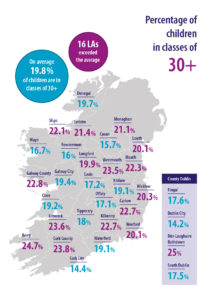 Class Size: