16th March 2020
INTO NORTHERN OFFICE ARE CURRENTLY EXPERIENCING UNPRECEDENTED LEVELS OF ENQUIRIES.
ALL QUERIES ARE BEING LOGGED AND DEALT WITH IN ROTATION.
WE WILL RESPOND TO ALL QUERIES AS SOON AS WE CAN AND APPRECIATE YOUR PATIENCE.
PLEASE HELP US TO SPEED UP OUR RESPONSE BY PROVIDING YOUR TEACHER REFERENCE NUMBER WITH YOUR ENQUIRY
In response to all of the recent communications from the Education Minister, Peter Weir and  Mr Derek Baker, Permanent Secretary, Department of Education, INTO has been, is and will be engaging in meetings, negotiations and lobbying with the Department of Education, all employing authorities, politicians and Stormont Ministers to represent the views and concerns of our members.
The INTO's advice, to date, can be found below.
As this is a very fast moving situation please regularly check our website for updates.
LATEST UPDATE: 3 April 2020
The EA have written to Principals (letter dated 2 April 2020) re: cross organisational support for schools during the current situation.
FREQUENTLY ASKED QUESTIONS: Updated 3 April 2020
To access the INTO FAQ document, click here.
CONTACTING PUPILS AT HOME: INTO ADVICE
Schools should not ask staff to contact pupils who appear not to be engaging with online activities, with the exception of those who may be penalised in terms of examinations if they do not engage.
To access the INTO advice, click here
INTO PRESS RELEASE: 1 April 2020
INTO calls for increased COVID-19 testing and adequate Personal Protective Equipment for workers in schools
LATEST UPDATE: 31 March 2020
In response to NITC representations, Management Side, DE and Employers are giving urgent consideration to the issue of sub teachers who no longer have access to work:
Management Side letter to NITC: 31 March 2020 (PDF)
LATEST UPDATE: 27 March 2020
The Education Authority have published a set of HR questions and answers to advise and guide managers and staff regarding important employment issues during this ongoing period of public health concern.
On clicking on the link above please select HR from the menu to access the information.
INTO ADVICE ON WORKING FROM HOME
INTO know that all our members want to do the right thing by your schools and pupils in these very difficult circumstances and to work with DE and the employing authorities to ensure that teachers are prioritised along with the children they teach.
To access the INTO advice, click here
LATEST UPDATE: 24 MARCH 2020
Updated guidance has been issued by the Department of Education and the Education Authority, including FAQs for schools opening for key workers' children
NITC CALLS FOR PAYMENT FOR SUB TEACHERS WITHOUT ACCESS TO SECURE WORK
NITC Letter to Permanent Secretary: 23 March 2020 (PDF)
THE FOLLOWING IS ADVICE AND GUIDANCE REGARDING THE OPENING OF SCHOOLS ON MONDAY 23 MARCH 2020:
Letter from Permanent Secretary to School Principals: 20 March 2020 (PDF)
DE General Guidance on COVID-19 For Schools (PDF)
DE FAQs For Schools Opening on Monday 23 March For Key Workers (PDF)
Letter from Permanent Secretary to School Principals and Staff: 22 March 2020 (PDF)
INTO Advice re: Permanent Secretary's Letter of 22 March:
INTO advises principal members to complete the survey and return it to the Department of Education.
Members are advised to:
[i] make full use of the comments boxes to communicate the reasoning behind their responses to the Department;
[ii] make it clear they will in conjunction with their Boards of Governors keep matters under daily review;
[iii] not make commitments beyond tomorrow.
It is vital that the information the Department is seeking is provided as it will be essential in supporting the unions efforts to have the Department revisit their strategy of using schools and teachers to facilitate day care for essential workers.
INTO ADVICE & GUIDANCE: UPDATED SUNDAY 22 MARCH 2020
INTO Advice & Guidance To All Members on Attendance at School During The COVID-19 Pandemic (PDF): Updated 3 April 2020
INTO Advice: Sunday 22 March 2020 (PDF)
INTO FAQs: Sunday 22 March 2020 (PDF)
PAYMENT OF SUB TEACHERS – UPDATE: 21 MARCH 2020
NITC letter to Minister of Education re: Substitute Teaching Workforce: 19 March (PDF)
Confirmation From NISTR: 
As a substitute teacher, how will school closures affect my booking and pay?
Even though schools will be closed to pupils, they will remain open for staff so that they can access resource materials and make arrangements for remote learning as appropriate, to facilitate provision for vulnerable children and those of key workers, and be available to carry out other duties that principals may require of them.
All employees will receive normal pay across the range of circumstances that we are facing whether they remain in the workplace, are working from home or are unable to carry on working due to circumstances beyond their control. Substitute teachers will also receive their normal pay for the period of time that they have been engaged to work.
This includes any engagements currently registered on the NISTR system AND any engagements which have been verbally agreed between the school and the substitute teacher.
LATEST UPDATE: 19 March 2020
Letter From Minister of Education to Education Sector: 19 March (PDF)
INTO PRESS RELEASE: Uncertainty Ends for Teachers and School Leaders: 18 March 2020
INTO Northern Secretary, Gerry Murphy, commenting on the Ministers statement said …
This evening's statement from the Joint First Minister ends the uncertainty for teachers and school leaders, at last, and is to be welcomed.
Teachers and school leaders, being the resilient and creative professionals, they are, have already begun to prepare resource material for a period of prolonged closure.
INTO has no doubt our members will continue, with the assistance of parents, to work diligently in maintaining continuity for learners.
Teachers will follow reasonable instruction from their school principal in relation to managing the distance learning of pupils. Principals and teachers must be careful to allow for their own domestic and family circumstances to be accommodated in the changed learning environment.
INTO remains available to members at this challenging time and we will seek to contribute to the work of the Department of Education and the other education bodies to ensure further information updates are provided to principals and teachers in the days and weeks ahead.
This is a worrying time for all concerned but today's decision will go some way to reducing the additional stress levels principals, teachers, parents, children and young people have been enduring over the last week.
INTO ADVICE: COVID-19 AND SCHOOL CLOSURES: 18 March 2020
In light of the continued decision on the part of the Minister of Education to have schools remain open, a decision opposed by INTO along with all the education trade unions, teaching and non-teaching, and having reflected on the vague and inadequate advice offered by the employing authorities and the Department of Education, INTO Northern Committee now issues the following guidance to our members:
Principals are reminded that protocols are already in place for exceptional circumstances which may necessitate a school closure. This Coronavirus pandemic is, in our view, an exceptional circumstance. Therefore, a principal, in conjunction with the Board of Governors, should carry out risk assessments in relation to preventing and managing sicknesses or in the event of large-scale absences on the part of colleagues. (See example Risk Assessment PDF).
In the event of a confirmed case within the school community, INTO advise that the Principal contact the employing authority to seek instruction. INTO must insist that where this is the case, schools close immediately. Contrary to departmental advice, a pupil showing symptoms of illness and awaiting collection, should not be left unattended.
While INTO will always advise teachers with underlying health issues to seek advice from an appropriate medical practitioner should they feel unwell, on this occasion of a global pandemic, INTO advises our vulnerable members with underlying health issues to contact their principal/school to explain that they are going to follow government advice and remain at home.Our understanding of underlying health issues includes and is not exhaustive of  those suffering from:

chronic (long-term) respiratory diseases, heart disease, Kidney disease; liver disease

Solid organ transplant recipients.

chronic neurological conditions
diabetes
a weakened immune system
eligibility for a flu vaccine
INTO advise all our members in these categories or caring for people in them to stop attending school.
Pregnant women have been advised as of the evening of March 16th by the British Prime Minister not to attend school and to self-isolate. INTO members who are themselves pregnant should follow this advice.
Teachers who are prevented from attending their normal place of work due to COVID-19 will receive their normal salary. Medical certification may be required at a later date, but teachers will not be expected to provide same whilst schools are closed.
Substitute teachers should ensure that where they have been booked on NISTR they keep a record of bookings from NISTR to ensure full payment if they are unable to attend their work due to COVID-19.
Where schools remain open following completion of a risk assessment, INTO members should not attend non-essential meetings. Non-essential meetings include assemblies, PTMs, staff, departmental, planning meetings etc. Members are reminded that we remain on Industrial Action at this time.
Schools should discourage non-essential external visitors and ensure that sanitising gel or hand washing facilities are available for the whole school community to avail of.
Where schools remain open following a risk assessment, time must be given, within contact time, for teachers to prepare additional work for the eventuality of school closure.
In the event of a school closure, teachers should remain available to follow reasonable instruction from their school principal in relation to managing workload from home. Principals and teachers should be careful to allow for their own domestic and family circumstances with regard to such instruction.
NITC CALLS FOR SCHOOL CLOSURES: 17 March 2020
Letter from NITC to Arlene Foster and Michelle O'Neill (PDF)
GUIDANCE ON ABSENCE RELATING TO CORONAVIRUS: 16 March 2020
Advice for managers and staff (PDF)
INTO GUIDANCE FOR TEACHERS: 16 March 2020

INTO advises that any member who is feeling anxious and concerned due to underlying medical conditions and the possible impact of contracting the COVID-19 virus should contact their GP and follow the advice given.
PAYMENT OF SUB TEACHERS: 13 March 2020
INTO is currently in discussions/negotiations with management with a view to ensuring that subs will be paid for days that they are booked through NISTR if they cannot attend school because of COVID-19.  Nothing has been finalised yet but INTO will be issuing guidance through the website / twitter etc as soon as anything has been agreed.  We hope to have our recommendations to management approved by early next week.
GUIDANCE ON COVID-19: 11 March 2020
In the current public health emergency, it is imperative that we all heed the public health advice and take the necessary steps to protect ourselves and our colleagues from the COVID-19 virus.
The INTO is advising parents and schools to keep up to date with Public Health Agency (PHA) guidance on COVID-19 (Coronavirus).
Public Health Agency guidance will be regularly updated on the PHA WEBSITE.
Additional guidance can also be accessed on the Department of Education's website and Education Authority's website.
BE AWARE – WASH YOUR HANDS WITH CARE
Regular handwashing is a key means of containment of this virus.  The following link opens a short video from the World Health Organisation which demonstrates the 'fine art of handwashing'
We would draw your attention particularly to an article by Conor Pope in the Irish Times, dated 10 March 2020, highlighting the pitfalls of poor handwashing:
https://www.irishtimes.com/news/health/coronavirus-pitfalls-of-poor-hand-washing-revealed-by-uv-light-1.4197876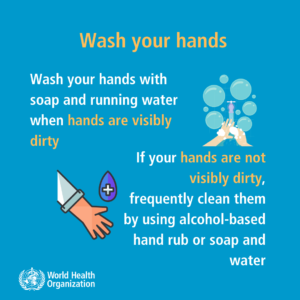 INTO will update you with further information as and when it is available