18th January 2021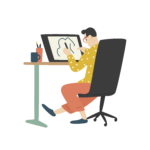 Have you created work during lockdown, have you found art a way to maintain your well-being, do you have an idea you can bring to completion for this year's competition?
2021's competition aims to reflect the experience of members in a time of lockdown and isolation, of challenges in school and at home never faced before as well as the support we have shown each other, how we have connected in different ways using new technology and the resilience and resourcefulness of teachers, staff and our young people all across the education sector.
Full details of the INTO Art Competition 2021 can be viewed HERE.
Download your Application Form HERE.
Closing date: 4.00pm, Friday 14 May 2021