Gerry Murphy, Northern Secretary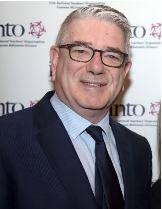 Gerry, a primary and post-primary teacher was formerly principal of St Mary's Primary School, Belfast. He joined Northern Office in 2011 as Northern Secretary. He previously taught in St Aidan's Primary School, Corpus Christi College and Little Flower Secondary School in Belfast. Gerry is a graduate of Queen's University Belfast and the University of Ulster at Jordanstown.
He has been a trade union representative at all levels of the INTO in the North serving at branch and district level and on the union's Northern Committee. He was also Chairperson of the Belfast West Branch, one of the largest branches in the North. He is the Secretary of the Northern Ireland Teachers' Council and is the lead person for the INTO in negotiations with the employers and the Department of Education.
Gerry is presently the Chairperson of the Northern Ireland Committee of the Irish Congress of Trade Unions and he will shortly assume the role of President of the Irish Congress of Trade Unions. This is a two-year term and Gerry's priorities will be to promote the interests of workers in all sectors across the island.
Mark McTaggart, Assistant Northern Secretary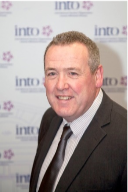 Mark McTaggart was born in Belfast. He graduated from St Mary's teacher training college in Belfast. He lives in Belfast with his wife, Siobhan and their 4 daughters.
Mark began teaching in St Patrick's Secondary School, before working as an outdoor pursuit's instructor in Drumalla House Outdoor Education Centre. He taught in St Mary's Primary School, Tilbury, Essex for four years, before returning to Ireland in 1992, taking up post in St MacNissis' Primary School, Newtownabbey. After 4 years as a Vice-Principal, he became Principal of St Anthony's Primary School in 2006. In 2013 he was appointed Principal of the newly amalgamated St Patrick's Primary School, Pim Street, Belfast.
Mark was an INTO school rep for 14 years. He was the Carrickfergus/Newtownabbey and Larne Branch Chairperson, and District 1 Secretary. He is a former Chair of Standing Orders Conference and a Staff Rep Tutor. He was the Northern Committee Primary Rep for NEELB and District 1 Representative to Standing Orders Congress and was Chair of Northern Committee in 2015/16. In 2016 he was appointed Assistant Northern Secretary.
Nuala O'Donnell, Senior Official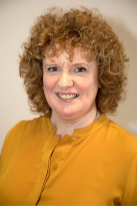 Nuala taught in Holy Family PS Belfast for 6 years before taking up post as Education Officer in INTO Northern Office in 1995. She was promoted to Senior Official in 2000.
Nuala has been involved with INTO since she was the student representative in St Mary's University College Belfast, she has held the role of School Representative, Branch Organiser and Standing Orders Northern Conference, and represented INTO on The ICTU Youth Committee.
In 2005 Nuala completed an M.Ed. in Educational Management and took a career break to work as an Education Adviser with the Post Primary Review of Catholic Education. On return from career break in 2011 she resumed her role as Senior Official. Her remits include Education, Training, Teachers' Pensions, Recruitment and Membership/Database. She is a member representative on the Northern Ireland Teachers' Pension Scheme Pension Board, is ex-officio to the INTO National Education Committee.
Tommy McGlone, Senior Official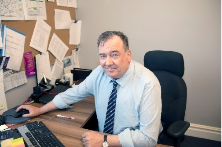 Tommy began teaching in 1989 and spent 22 years in the post primary sector in Lurgan. Before becoming a Senior Official, he represented members as a School Representative, Branch Secretary, Secondary Consultative Committee member and as a National Education Committee member before serving as a Trade Union Official.
Tommy has always been a committed trade union activist and before he began teaching, he worked in outside education where he was an active member of both the Amalgamated Transport & General Workers' Union and the Communication Workers' Union.
Tommy is primarily interested in teacher well-being and general terms and conditions of employment and his experience on both the INTO Education and Equality Committees has been invaluable in his work on employment and professional issues.
Paul Groogan, Trade Union Official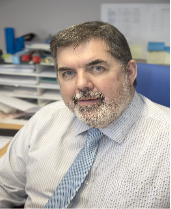 Paul Groogan was appointed Trade Union Official in Northern Office in September 2017. Paul first qualified as a teacher in 1984 from St Joseph's College of Education, Belfast. In 1986 he moved to England where he entered the private sector and worked with Post Office Counters Ltd as a counter clerk, manager, trainer and project planner. He moved back to Omagh in 1996 and re-entered teaching, working in the Primary Sector in Derry and then Omagh up to August 2017. He has a breadth of knowledge gained from his time working in the private and public sectors. His interest in trade unions and their importance was first encountered in student life as President of St Joseph's Students Union. He continued this interest during his time with the Post Office.
Paul has represented INTO as a School Representative and Chair of Tyrone Central. He was District II's representative on Standing Orders Conference for 3 years and was District II's representative for Standing Orders Congress for 5 years. He was also INTO's representative on the ICTU Health & Safety Committee. Paul was elected Western Area Northern Committee Primary A. Representative when he replaced Rita Fox in 2012. Paul has a broad understanding of the private and public sectors and looks forward to the daily challenges that his role as Trade Union Official presents.
Kevin Daly, Trade Union Official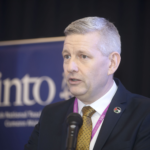 Kevin Daly, INTO Trade Union Official, qualified as a teacher in 1997 and has taught since then in non-selective post-primary schools in London, Belfast and Newry.  He has been an active union member and school representative for most of his teaching career and a member of INTO Northern Committee since 2012.  Kevin was seconded to Northern Office, initially as Northern Committee Chairperson from September 2019 and is currently seconded as Teachers' Side Lead on the Workforce Review Project.
Administrative Staff
Receptionist
Paul Donnelly
Office Manager and PA to Northern Secretary
Christine McDonnell
Executive Officers
Helen Mawhinney
Trevor Leonard
Executive Assistants
Marian McAuley (Tuesday & Wednesday)