INTO'S FIRST PRESIDENT: VERE FOSTER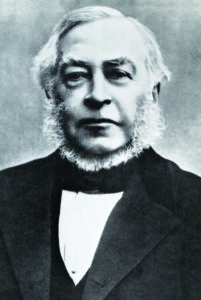 Philanthropist, educationalist and social reformer
Vere Foster was born in Copenhagen in April 1819. He was actively involved in Irish society for several decades before settling in Belfast for the last 30 years of his life.
A member of the Anglo-Irish gentry, Foster was educated at Eton and Oxford and followed his father into the diplomatic service, during which period he was posted to Brazil and Uruguay. On his return to England in 1847, Foster visited Ireland for the first time, probably in connection with famine relief on the family estates. Using his own wealth, Foster spent several years promoting and assisting emigration, and travelled to America himself in 1850-51.
Foster was also involved in education in Ireland, where a network of national schools had been recently established. He agitated for improved wages and conditions for teachers and developed the 'Vere Foster Copy Books' to improve and standardise the teaching of writing.
In 1867, Foster settled permanently in Belfast where he continued to work as the president of the Congress of the Irish National Teachers' Organisation. He fundraised for the Royal Belfast Hospital (later the Royal Victoria Hospital) and helped to establish a school of art in the town, while continuing to promote emigration.
Having exhausted most of his personal fortune on his philanthropic projects, Vere Foster died in December 1900. He is buried in Belfast City cemetery.
READ the Nov/Dec 2020 InTouch Article by John Carr, Chair Vere Foster Trust and Former General Secretary of the INTO:
Vere Foster and His View on Mixed Schooling - Was INTO's First President a Man Before His Time? (pdf)
INTO REMEMBERS VERE FOSTER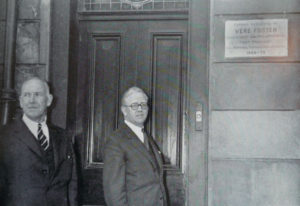 This photograph shows INTO President (1955-1956) Captain HF McCune Reid (on left) with Mr J Stuart Hawnt (Belfast Director of Education) at the unveiling of a plaque to commemorate INTO's first president, Vere Foster:
"Former residence of Vere Foster, educationalist and philanthropist, first president, Irish National Teachers' Organisation 1868-73"
The plaque was unveiled at 115 Great Victoria Street, the house in which the remarkable Vere Foster spent the final years of his life and in which he died. The building no longer exists, however, INTO offices in both Dublin and Belfast are now called 'Vere Foster House' in his honour.
PRESS RELEASE: 200th Anniversary of the Birth of Vere Foster: 26 April 2019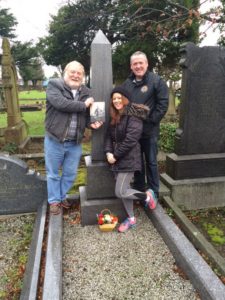 L-R: INTO Representatives Barney Magill, Mary Cahillane and Mark McTaggart visit Vere Foster's Grave, Belfast City Cemetery in 2016
Today (26 April 2019) is the 200th anniversary of the birth of Vere Foster (1819 – 1900).
Vere Foster was INTO's first President; our offices in both Dublin and Belfast are named "Vere Foster House" in his honour. He is also commemorated in the names of schools north and south of the border, including in his birthplace of Tallanstown, Co Louth, and in the work of the Vere Foster Medical Group on both the Falls Road and in Sandy Row in Belfast.
Sacrificing wealth and position, Foster devoted his life to a range of socially positive causes – assisting emigrants in the wake of the Irish Famine, transforming the standard of national schools, raising the status of teachers, and striving for better medical facilities in his adopted Belfast.
It is appropriate that Vere Foster is remembered by INTO members on this day.
EXHIBITION OF VERE FOSTER MEMORABILIA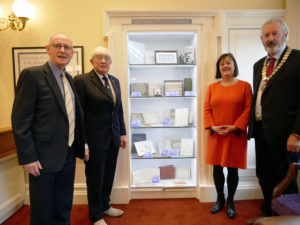 L-R: INTO Deputy General Secretary/General Treasurer, Noel Ward, Bart Bambury, General Secretary, Sheila Nunan and President, Joe Killeen at the opening of the Vere Foster Exhibition to mark the 150th anniversary of INTO in 2018.
An exhibit of Vere Foster memorabilia can be viewed in the reception area of INTO head office (Vere Foster House) in Dublin. This was made possible mainly through the work of retired INTO member Bart Bambury in collecting Foster memorabilia over the years.
The display is representative of Vere Foster's life and involvement in education. Included are both handwriting and drawing copybooks for use in schools (Vere Foster published almost 200 separate copybook titles), a 'hat' inkwell of a type he had produced specifically for schoolchildren, a book written by Foster, a letter to his niece in the year of his death, and a prize certificate for the schools' handwriting competitions which he organised.
INTO VERE FOSTER MEDAL AWARD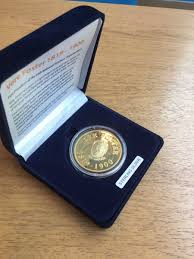 The INTO Congress of 1956, held in Belfast decided to organise a suitable memorial as a tribute to the memory of Vere Foster. The memorial takes the form of a Vere Foster medal, and is generally awarded by the INTO to the Newly Qualified Teacher in St Mary's University College and Stranmillis University College, graduating from the four-year B.Ed. Honours Degree, achieving the highest mark in Teaching Practice.
INTO VERE FOSTER LECTURE
Each year, INTO Northern Office holds a Vere Foster Lecture in memory of our first President.
Over the years, guest speakers including historians, Dr Eamon Phoenix, Dr Niamh Puirseil and Mr Jim McDermott have been invited to make a short presentation on various topics ranging from Vere Foster, Margaret Skinnider, Jim Larkin, INTO and the foundation of UTU and Shared Education: A New Way Forward?
All members are invited to attend the event, usually held in May or June each year - keep an eye on the website for details of this year's event. The winner of the INTO annual art competition is also awarded here.
2021 Vere Foster Lecture

Vere Foster Lecture 2021 Poster (PDF)
Vere Foster Lecture 2021 Photo Gallery
This year's event was held on Friday 15 October 2021, in The Malone Hotel, Belfast and was delivered by Dr Caitlin Donnelly, Senior Lecturer, School of Social Sciences, Education and Social Work, Queen's University Belfast and is entitled: "Managerialism in a post-COVID world…has it run its course?"
Watch the 2021 Vere Foster Lecture:
2020 Vere Foster Lecture
Due to the ongoing COVID-19 pandemic, our 2020 lecture was pre-recorded with social distancing measures in place. It is available to view below.
This year's lecture was delivered by Paul MacFlynn, Co-Director NERI and is entitled "Mind the Gap – Education and the Economic Divide on the Island of Ireland":
Over the last 40 years, the economic dynamic on the island of Ireland has changed dramatically. Now Brexit has brought into sharp focus the fate of the all-island economy and the differing fortunes of both economies. Education is a key driver of economic growth and is fundamental to understanding the scale of the gap in outcomes that now exits on the island of Ireland. How we invest in education and how we reward education are two key questions that need to be examined. Learning lessons from the experience of both economies can lead to a more equitable and sustainable economy and society on the island of Ireland. 
Download a PDF copy of the Vere Foster Lecture presentation.
Watch the 2020 Vere Foster Lecture:
Photographs from the 2019 Annual Vere Foster Lecture can be viewed here:
Organising Teachers: Experiences of Unity & Separation
A video of the 2014 Annual INTO Vere Foster Lecture can be viewed here:
Divided Loyalties: Divided Teachers - INTO in Turbulent Times & The Foundation of UTU, 1912-22
VERE FOSTER LECTURE POSTER GALLERY
Click on the thumbnail images below to scroll through previous years' posters