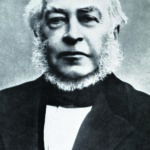 Vere Foster, INTO's First President
Each year, INTO Northern Office holds a Vere Foster Lecture in memory of our first President.
Over the years, guest speakers including historians, Dr Eamon Phoenix, Dr Niamh Puirseil and Mr Jim McDermott have been invited to make a short presentation on various topics ranging from Vere Foster, Margaret Skinnider, Jim Larkin, INTO and the foundation of UTU and Shared Education: A New Way Forward?
Vere Foster Lecture 2021
Vere Foster Lecture 2021 Poster (PDF)
Vere Foster Lecture 2021 Photo Gallery
This year's event was held on Friday 15 October 2021, in The Malone Hotel, Belfast and was delivered by Dr Caitlin Donnelly, Senior Lecturer, School of Social Sciences, Education and Social Work, Queen's University Belfast and is entitled: "Managerialism in a post-COVID world…has it run its course?"
READ MORE about Vere Foster and how INTO pay tribute to him.