14th March 2018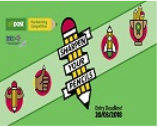 Take part in An Post' and INTO 'St Patrick's Day' themed handwriting competition for primary schools.
Post your entries by Tuesday, 20 March.
The competition is open to all primary schools with great prizes awarded at regional and national level.
Find out more at anpost.ie/anpost/schoolbag/ where you can download your writing templates and find lots of interactive resources.