14th March 2018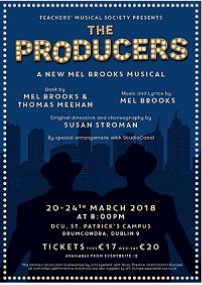 After the success of last year's production of the dark, dramatic and downright demonic Sweeney Todd – The Demon Barber of Fleet Street, the Teachers' Musical Society (TMS) have decided to go in a completely different direction with The Producers. TMS are delighted to be returning home to DCU St Patrick's College, Drumcondra, where they cannot wait to stage this glitzy, funny, irreverent show.
Bialystock and Bloom! Those names should strike terror and hysteria in anyone familiar with Mel Brooks' classic cult comedy film. Now a big Broadway musical, The Producers once again sets the standard for modern, outrageous, in- your-face humour. It is truly a hit, winning a record 12 Tony Awards.
The cast of the Teachers' Musical Society is made up primarily of primary and secondary teachers and, over the last 18 years, the group has grown into one of the leading musical societies in Ireland. It has won numerous awards at the Waterford International Festival of Light Opera as well as from the Association of Irish Musical Societies (AIMS). TMS welcomes award winning director and choreographer Sean Gilligan, and the superbly talented Marian Mullen as musical director.
The 2013 production, Michael Collins – a Musical Drama, was critically acclaimed and was nominated for six awards from AIMS, in addition to being sold out for the complete run.
Nominations and awards don't stop there. All Shook Up was nominated for Best Actress, Best Comedian and Best Male Singer and won Best Choreography. 42nd Street was no exception with a nomination for Best Supporting Actress.
Last year's production of Sweeney Todd saw nominations for Best Actor and Actress, best Musical Director and Best Overall Show with TMS winning in the Best Actress and Best Musical Director categories.
The Producers opens with a preview night on Tuesday, 20 March, and runs nightly at 8.00 p.m. until Saturday, 24 March in the Auditorium in St Patrick's College, Drumcondra.
Tickets are €17 opening night and €20 all other nights. For tickets log on to www.eventbrite.ie.
To find out about the TMS and upcoming events, just find us on Facebook, Instagram and Twitter!