25th June 2018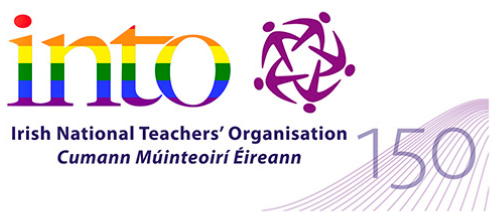 Ahead of Dublin Pride, The Irish National Teachers' Organisation (INTO) will temporarily rebrand in a show of support and solidarity with LGBT+ teachers, students and the wider community in Ireland.
Whilst Pride is a celebration of the advances which the LGBT+ community has made over many years, it's also an opportunity to reflect on the challenges which remain. In a country where you can marry your same-sex partner yet be attacked for holding their hand in public, or where so many remain in the closet professionally in so many sectors for fear of bias and discrimination, it's clear more remains to be done.
A specially commissioned INTO pride logo, reflecting our 150-year journey has been created and will be visible on all public channels across the organisation from Monday, 25 June 2018 for one week, coinciding with Dublin Pride weekend where our own INTO Teachers' LGBT Group will be marching.
INTO General Secretary Sheila Nunan said, "As we reflect on INTO's 150-year journey of activism and advocacy, it's important to look forward and face the challenges which remain. We have always worked with our LGBT+ members to make classrooms and schools a place of inclusion where teachers are free to be their authentic selves.
"We do recognise, however, the ongoing challenges facing not just LGBT+ teachers but the wider community and our small gesture ahead of Dublin Pride is aimed at demonstrating our commitment as an ally in the coming years."