14th August 2018
A massive €54,000 has been raised by INTO for CMRF Crumlin to help some of Ireland's sickest children. The outstanding charity efforts will support paediatric medical research and over 150,000 children who visit Crumlin hospital each year.
"INTO are delighted and very proud to once again support CMRF through their annual members' raffle." Joe Killeen, President of INTO, said "Thank you to our members for their generosity in raising €54,000 in the 2018 raffle. It will benefit thousands of children all over Ireland in their most vulnerable sick moments, and their parents through periods of strain and worry."
The Children's Medical and Research Foundation (CMRF) Crumlin, the fundraising body for Our Lady's Children's Hospital and the National Children's Research Centre, has praised INTO for their continued fundraising – "Every year, we meet fundraising groups like INTO and we're just overwhelmed by their generosity in the donations and their ability to create such a fantastic fundraiser," Lisa-Nicole Dunne, CEO of CMRF Crumlin, said. "CMRF receives no governmental funding so we totally rely on the generosity of fundraising groups like INTO."
The hospital treats upwards of 150,000 children each year from all over Ireland.
"Every family in our school communities knows of a child who has received treatment in Crumlin hospital." Joe Killeen said. "We support the hospital in providing the best possible care for children and are mindful of the constant need to invest in research projects. Therefore, the proceeds from the 2018 INTO members' draw will be used to fund an Inflammatory Bowel Disease (IBD) research project."
IBD is a term used for two chronic relapsing conditions, ulcerative colitis (UC) and Crohn's disease (CB). Unfortunately, childhood IBD is on the rise with a tripling of cases in the past ten years in Ireland. Current treatment strategies are ineffective in a large number of children, so further research is vital.
INTO launched their annual members' raffle in April and with the support of INTO staff representatives in schools who encouraged members to participate in the raffle, they were delighted with the very generous response. The raffle took place under the watchful eye of their Central Executive Committee at their June meeting in INTO Head Office. The top prize was a Toyota Auris car and nine cash prizes. INTO centrally funded an additional ten prizes of €150 for their staff representatives.
INTO President Joe Killeen presented the cheque of €54,000 to CMRF on 14 August 2018 and said the work here in the Children's Medical and Research Foundation is vital and urgent. "Children are suffering right now from the most serious and harrowing illnesses and conditions." Joe said. "We need to support important research in the fight against childhood illness, and to provide the best facilities and equipment to save their lives, ease their burden and speed up healing". Joe thanked the INTO members for their contribution to the 2018 draw.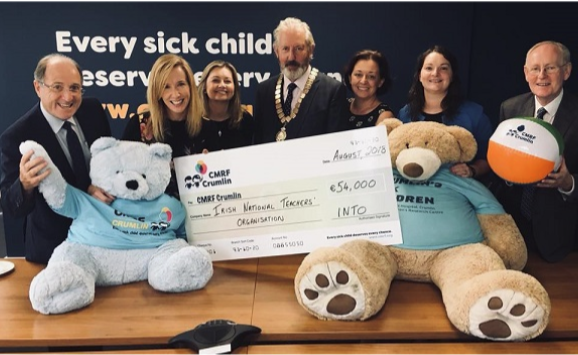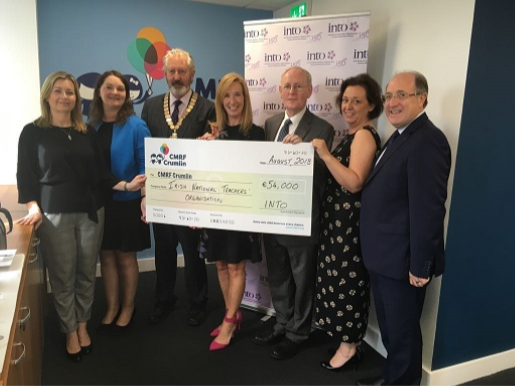 Pictured LR: Sinead Nolan, Antoinette Kelly, Joe Killeen, Georgina Glackin, Noel ward, Mary O'Donovan and Gerry Cully