15th October 2018
On Saturday 13 October 2018 an Taoiseach Leo Varadkar appointed Joe McHugh as Minister for Education and Skills.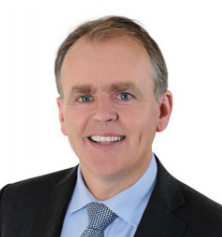 Joe McHugh has been a TD for the Donegal constituency since 2016, and previously from 2007 to 2016 for the Donegal North-East constituency. He previously served as Government Chief Whip and Minister of State for Gaeilge, Gaeltacht and the Islands from 2017 to 2018, Minister of State for the Diaspora and Overseas Development from 2016 to 2017 and Minister of State for Gaeltacht Affairs and Natural Resources from 2014 to 2016. He was a Senator for the Administrative Panel from 2002 and 2007.
Born in Carrigart, County Donegal, Mr. McHugh was educated at Umlagh National School and the Loreto Convent, Milford. He attended the National University of Ireland, Maynooth, where he received an honours degree in economics and sociology, and a higher diploma in education. A keen sportsman, Mr McHugh has been a member of the Carrigart Boxing Club, has played soccer in the Donegal League with Cranford FC and Bonagee United FC and has also been a Gaelic footballer. Mr McHugh taught geography and mathematics at the Loreto Convent Secondary School, Letterkenny from 1993 to 1995. From 1995–96, he taught A-level economics in Dubai, during which time he helped establish the first GAA club in the
United Arab Emirates. In 1996, he returned to Ireland and became a youth worker in the Ballyboe area of Letterkenny.
Mr McHugh was elected to Dáil Éireann at the 2007 general election. His wife Olwyn Enright also won re-election to the Dáil, making them the third married couple to be elected to sit in the same Dáil. Mr McHugh was appointed party deputy Spokesperson for Foreign Affairs and the Department of the Taoiseach with special responsibility for North-South Co-operation in October 2007. Mr McHugh was re-elected to the Dáil at the 2011 general
election. At the 2016 general election, after a redrawing of constituency boundaries, Mr McHugh was elected to the new five-seater Donegal constituency on the 11th count.
On 15 July 2014, he was appointed as Minister of State with responsibility for Gaeltacht Affairs and Natural Resources at the Departments of Arts, Heritage and the Gaeltacht and Communications, Energy and Natural Resources. His appointment was met with criticism as his knowledge of the Irish language was at a basic level although he subsequently received praise for his efforts to improve his language skills to the point where he could conduct lengthy interviews in the language.