8th March 2019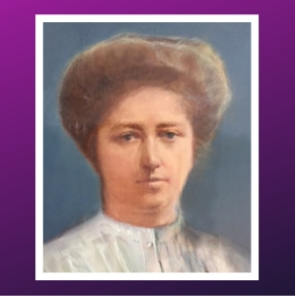 International Women's Day has been celebrated annually on 8 March since 1911. International Women&'s Day is a global day celebrating the social, economic, cultural and political achievements of women. The day also marks a call to action for accelerating gender parity. This year the theme is #BalanceforBetter and focuses on building a gender-balanced world. More information on the day and details on how to contribute to the
#BalanceforBetter campaign can be found on the International Women's Day website.
Catherine Mahon
This year on International Women's Day we are championing Catherine Mahon, the first ever female president of the INTO. Catherine Mahon (1869-1948) worked towards #BalanceforBetter by advocating for equal pay and women's representation throughout the union.
From its establishment in 1868 the INTO had women teachers as members, however it was during the decade 1906-1916 that the INTO became more focussed on women's issues. The first indication of change towards gender parity for teachers was the publication of the 'Lady Teachers' Own Page' in the Irish School Weekly in February 1906. The page, written by Kathleen Roche, was "exclusively devoted to the interests of lady teachers" and a source of inspiration to Catherine Mahon.
In 1907, Catherine became the first elected woman on the Central Executive Committee. In 1912, she became the first female president of the INTO. Catherine fought for equality issues such as equal pay, representation for women teachers on the INTO Executive, and equal distribution of the Birrell grant. She also led women teachers in the fight against the enforced teaching of cookery in national schools, and worked hard to recruit new members, especially women, into the INTO. During her presidential term, Catherine's leadership and lobbying skills won widespread public and political support for the INTO.
Catherine was also a member of the Irish Women's Suffrage and Local Government Association, the Irish Women's Franchise League, and the Irish Catholic Women's Suffrage Association. Her involvement with the suffrage movement inspired her work within the INTO.
International Women's Day Classroom Resources
The International Women's Day website has a number of classroom resources that can be used in schools to help educate and inspire children about the role of women in society. The resources celebrate women's achievements and challenge gender stereotype and bias. They have been developed in collaboration with Penguin Random House, Teach Starter, and DreamWorks Animation.
The International Women's Day Penguin Random House classroom resources explore story lines, analyse characters, challenge stereotypes, examine language use and establish a lifelong love of reading. The Penguin Random House resources include a book study, a resource pack with lesson plans, a reading list, and a list of 46 books about women who changed the world. View and download Penguin Random House resources.
The International Women's Day Teach Starter resources support teachers in championing and celebrating gender equality. The Tech Starter resources include a printable fact sheet, case studies about inspiring women role models, activity task cards, and a role model activity book. View and  download Teach Starter resources.
The International Women's Day DreamWorks Animation resources are about power, fierceness and realness of women – and how different young women step up into leadership roles, learn about themselves, and make a positive difference in each other's lives and their world. The DreamWorks Animation resources include a video, guides, activity sheets, and games. View and download DreamWorks resources.
A number of videos have also been produced by various groups around the world to raise awareness of International Women's Day. These videos could be watched in class to start a discussion and to reinforce important gender concepts. Watch International Women's Day videos.
Additional Reading and Sources: