17th June 2019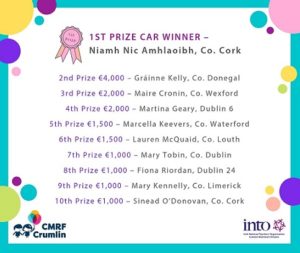 Thank you for supporting the INTO Annual Members' draw in aid of the Children's Medical & Research Foundation at Crumlin Children's Hospital.
The 2019 draw took place on Friday, 14 June 2019.
*The winners of the INTO Staff Representatives prizes of €100 each are as follows:
1. Aisling Kelly, Co. Clare
2. Claire Flaherty, Co. Galway
3. Richard Murphy, Co. Limerick
4. Dympna O'Brien, Co. Wexford
5. Catherine Dalton, Co. Limerick
6. Michael Foley, Co. Kilkenny
7. Ciara O'Shaughnessy, Dublin 15
8. Michaela Brown, Cork
9. Ann-Marie Kelly, Co. Donegal
10. Helen Smith, Co. Longford
*these prizes of €100 each were paid out of INTO general funds and not the proceeds from
the draw.
Please return any outstanding monies as soon as possible to INTO Head Office, 35 Parnell Square, Dublin 1.