16th July 2019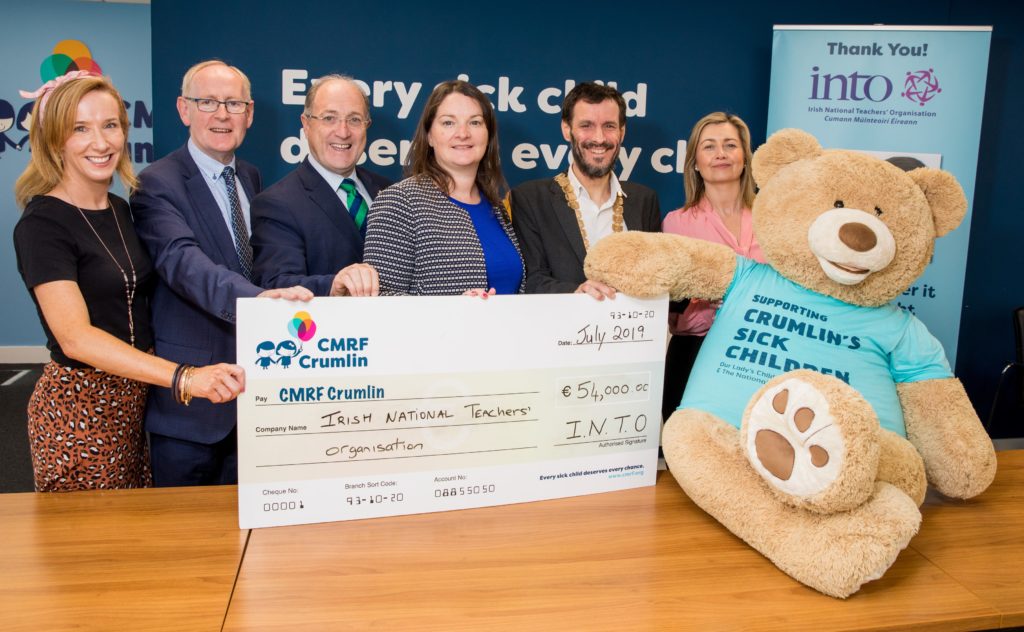 INTO's annual member and staff representatives draw raised a whopping €54,000 to assist funding an inflammatory bowel disease (IBD) research project at Crumlin Hospital.
The hospital treats upwards of 100,000 children each year from all over Ireland. Every family in our school communities know of a child who has received treatment in Crumlin hospital. We support the hospital in providing the best possible care for children and are mindful of the constant need to invest in research projects.
IBD is a term used for two chronic relapsing conditions, ulcerative colitis (UC) and Crohn's disease (CB). Unfortunately, childhood IBD is on the rise with a tripling of cases in the past ten years in Ireland. Current treatment strategies are ineffective in a large number of children; therefore further research is vital.
INTO President Feargal Brougham presented the cheque to CMRF on Tuesday 16 July, hailing the ground-breaking research being undertaken to deliver new treatments for children. Speaking at today's exchange, Mr Brougham stated, "Children are suffering right now from the most serious and harrowing illnesses and conditions. We need to provide the best facilities and equipment to save their lives, ease their burden, and speed up healing."
INTO would like to thank all members and staff representatives for their contribution to the draw.