28th August 2019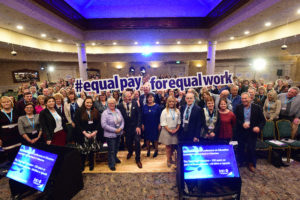 Meeting this week, the INTO's Central Executive Committee (CEC) warned that the delay was undermining confidence in a negotiated resolution to remaining inequalities. At INTO Congress in April 2019, it was announced that a process had been agreed between unions and the Department of Public Expenditure and Reform, finally laying a pathway towards ending pay inequality in primary teaching. At that time, it was agreed that a public service pay review, or the next public service pay talks, would give full consideration to the remaining pay equality matters with a view to resolving the outstanding inequalities facing certain new entrants to the teaching profession. Four months later our members are still waiting for detail on the scope and timeline of any review.
As a result of INTO's extensive national campaign for pay equality, members will see further pay restorations from next week. Post-2010 entrants benefit from the removal of points 4 and 8 from their salary scale, alongside the negotiated salary uplift of 1.75%, which results in faster progression up the salary scale for newer entrant teachers.
Members are also acutely aware of the prolonged delay in implementing the principals' and deputy principals' award, first promised in an independent report in 2007. Nearly twelve years later this award is still outstanding. It's time for government to stop dragging its feet. Our members' patience is running out.
INTO General Secretary John Boyle said:
"Our members have shown tremendous patience over the last four months, taking in good faith the commitments made by the Department of Public Expenditure and Reform and Minister for Education and Skills Joe McHugh. Members will be frustrated that they return to school this year without clarity on the nature of the proposed review, which would lay a clear pathway towards pay equalisation in the forthcoming pay talks."

"While our campaign has led to significant progress towards pay equality for many new entrants this year, our members are steadfast in their determination and unified behind our goal of finishing the job to secure full, upward pay equality for all those that entered the teaching profession between 2011 and 2014 and securing the school leaders' award. I urge government to show the necessary political leadership to get this pay review up and running immediately."