14th July 2021
The INTO has presented a cheque to the Children's Health Foundation (CHF) after €35,000 was raised for the foundation in our annual members' draw. 
The draw, which took place last month, raised funds for the CHF (formerly Children's Medical and Research Foundation), supporting their wonderful work in Temple Street, Crumlin, Tallaght and Connolly hospitals where they treat upwards of 150,000 children each year from all over Ireland. The funds from this year's draw will ensure that critical research into sickle cell disease (SCD*) can continue.
INTO President Joe McKeown and Deputy General Secretary Deirdre O'Connor handed over the cheque to Rachel Daly ,Community Engagement Manager and Emma Horgan, Head of Communications and Campaigns of CHF at a socially-distanced presentation at head office.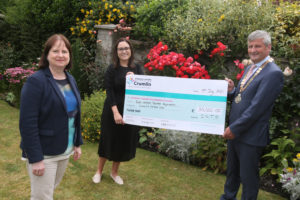 Joe McKeown, the INTO President, said:
I am delighted to be here to present this cheque for €35,000 to the Children's Health Foundation. This money was raised by INTO members in our annual draw – I want to say a special thanks to all of the staff representatives who promoted the event and to all teachers who supported it and bought tickets. This is going to make a big difference to the children in the children's hospital in Crumlin."
Deputy General Secretary Deirdre O'Connor added:
This was the second year the draw took place online due to COVID-19 restrictions and social distancing guidelines, which makes fundraising a challenge, but our members continued to show their great support for the Children's Health Foundation. €35,000 has been raised by INTO members in 2021. That brings the total that we've raised over the years for CHF to €1.8million and we're hoping to push on and raise more in the coming years. Thanks to all members for your participation."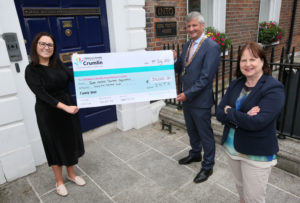 Rachel Daly, CHF Community Engagement Manager said:
We are so delighted to be here to accept this cheque. INTO is synonymous now with Crumlin with the support we've received from over the years. We're so grateful to each and every teacher across the country that partakes in this raffle and raises money. The money this year will go towards sickle cell research and that allows for faster diagnosis, kinder treatments, safer treatments but, ultimately, it allows for us to improves children's health. Thank you to each and every member – we greatly appreciate it."
About Sickle Cell Disease (SCD) and the Research Project
Unfortunately, there is currently a limited understanding of the molecular events that contribute to vaso-occlusive crises (VOC) in SCD patients. In developing countries, half of children with SCD die before reaching five years of age and less than 10% actually survive to adulthood. Even in developed countries, SCD continues to be associated with significant paediatric morbidity. 
SCD is so-named because abnormal haemoglobin – the protein that transports oxygen in the blood – causes red blood cells to become rigid, sticky and shaped like sickles. These atypical cells have a shorter life span and get stuck in blood vessels, slowing or blocking blood flow and oxygen to parts of the body. Pain crises are a clinical hallmark of the condition and can be excruciating, often requiring emergency department attendance. Serious complications include stroke and other organ damage, but treatment advances have improved life expectancy. As children with SCD are vulnerable to infections, COVID-19 presents an additional concern.