Síne Friel, Senior Official
Síne is Senior Official in the INTO Communications team and editor of InTouch magazine. Síne holds a BEd from St Patrick's College (Drumcondra), an MEd from the University of Notre Dame (Indiana) and the Diploma in Public Relations from the Public Relations Institute of Ireland (PRII). She taught in Texas and Letterkenny before joining the INTO Head Office staff. She is a member of the PRII and won its Gladys McNevin award in 2018.
Alison Gilliland, Senior Official
Alison Gilliland is Senior Official with responsibility for INTO Learning leading all aspects of professional development and learning for members and trade union training for INTO officers and staff representatives.
Alison is also the union's Equality Officer acting as secretary to the INTO Equality Committee and representing INTO on the ICTU Women's Committee and the ETUCE's Standing Committee for Equality.
A native of Co Monaghan, Alison previously taught in Granada (Spain), Our Lady Immaculate JNS and SNS (Darndale), and Swords Educate Together NS. During her time teaching Alison was an active member of Dublin North West Branch holding the roles of Branch Organiser, Staff Representative Tutor and District 15 summer course co-ordinator.
Alison completed her doctorate with the University of Nottingham in 2017 researching young union activists' views and experiences of their union (INTO) and its influence on their conception of professionalism.

Nadia Johnston, Senior Official
Nadia is a Senior Official in the INTO Finance and Membership Section with responsibility for internal pensions administration, finance, risk management, regulatory compliance, procurement, property, projects and facilities management.
Nadia has a degree in European Business Management from Abertay University, Dundee and has worked in office management and finance for many years. She has many years of experience in education trade unions, having worked in the TUI Credit Union and TUI Head Office for almost 20 years.
Originally from Carnoustie on the North East coast of Scotland, Nadia has been living in Dublin for 24 years and became an Irish citizen in 2019. In her spare time, Nadia teaches fitness/dance classes.
Bernie McHale, Senior Official
Bernie McHale is a senior official with responsibility for all aspects of strategic management within the HR function in Head Office and Northern Office. Bernie comes from a banking background, with a long career in undertaking both commercial and HR roles. She brings extensive HR experience to the INTO, having spent 15 years working exclusively in senior HR roles.
In her role, Bernie works with INTO's senior leadership team on all elements of formal HR policies and practices including employee engagement, HR development, CPD, recruitment and selection, workforce planning, employee/industrial relations and succession/talent management.
Bernie is a native of Dublin, originally from Santry now living in Portmarnock.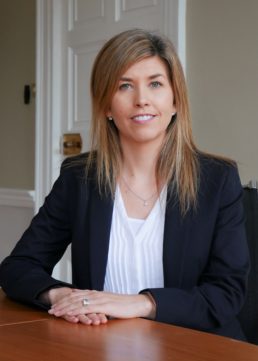 Sheila Murphy, Senior Official
Sheila is the Senior Official in the Legal, Industrial Relations and Equality Section. Sheila holds a B.Ed from St Patrick's College (Drumcondra), a graduate diploma in Special Educational Needs (UCD), a Master of Education (UCD) and a graduate diploma in Education Law and Practice (Law Society of Ireland). In her role Sheila provides advice, assistance and representation to members across a range of fora including the Teaching Council, Tusla and the Workplace Relations Commission.
Originally from Dublin, Sheila spent 13 years teaching in St Maelruain's Senior NS in Tallaght before joining INTO Head Office. During her time teaching, Sheila was also an activist with Tallaght branch and district 8 holding a range of roles including staff representative, district trainer and cathaoirleach of Tallaght branch.
John O'Brien, Senior Official
John is a native of Cork and previously worked in the insurance industry in both Cork and Dublin. He has been a life-long, active trade union member and served on the Irish Executive of the Amicus (now UNITE) Trade Union for many years. He completed a Diploma in Management & Employee Relations (NCI) and also served as a seconded full time union representative within the Irish Finance Sector before joining the INTO in January 2008.
John works in the Conditions of Employment Section in INTO Head Office and has wide-ranging responsibilities, including dealing with Pension & Retirement, Sick leave and related issues, such as the Salary Protection Scheme and the Employee Assistance Service. John is also the INTO Global Solidarity Officer, which includes responsibility for the development of the INTO Global Solidarity Network. He is a member of the INTO Global Citizenship School Steering Committee and represents the INTO on the ICTU Global Solidarity Committee, the Irish Forum for Global Education and the Education International, Capacity Building and Solidarity Network.