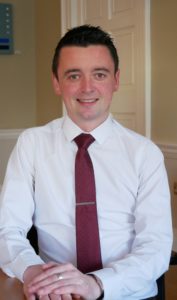 TJ Clare, Senior Official
TJ is a senior official in the Legal, Industrial Relations and Equality section in INTO Head Office. Prior to being appointed, TJ fulfilled the role of official in LIRE and completed the INTO internship. In his role as senior official, TJ advises, supports and represents members in a range of areas including at Boards of Management and local fora, the WRC, The Teaching Council, The Department of Education and in the Courts.
TJ graduated from St Patrick's College, Drumcondra, in 2011 with a Bachelor of Education degree. He also has an Advanced Diploma in Applied Employment Law, King's Inns. Prior to joining INTO Head Office, TJ taught in Dublin. While teaching, TJ was an active member of the INTO, serving as branch secretary in the Dublin North City Branch, district development coordinator and as District 14 secretary. He was also involved in campaigns on a broad range of issues and was a lobbyist for the Dublin West constituency.
Ciarán Gallagher, Senior Official
Ciarán Gallagher is Temporary Senior Official in the Communications section, acting as deputy director of communications and editor of InTouch magazine in addition to managing the publications team. Previously an INTO Official, Ciarán has worked with the communications team to promote the voice of the membership and union developments. Before joining the INTO, Ciarán was a Communications Officer with Trócaire, co-ordinating the development agency's media outreach, including press coverage for various campaigns. Prior to this he worked in journalism for 12 years, starting in broadcasting before working with a variety of media organisations as a freelance following a five-year period with the Irish Daily Mail. Ciarán holds a Master's in Journalism from DIT and a BA(Hons) in Media Production Management from DCU. A trade union member, he is from Dublin.

Nadia Johnston, Senior Official
Nadia is a Senior Official in the INTO Finance and Membership Section with responsibility for internal pensions administration, finance, risk management, regulatory compliance, procurement, property, projects and facilities management.
She was designated as the INTO data protection officer in 2021.
Nadia has a degree in European Business Management from Abertay University, Dundee and has worked in office management and finance for many years. She has many years of experience in education trade unions, having worked in the TUI Credit Union and TUI Head Office for almost 20 years. She was awarded a Certificate in Data Protection Practice from the Law Society of Ireland in 2021.
Originally from Carnoustie on the North East coast of Scotland, Nadia has been living in Dublin for 24 years and became an Irish citizen in 2019. In her spare time, Nadia teaches fitness/dance classes
Bernie McHale, Senior Official
Bernie McHale is a senior official with responsibility for all aspects of strategic management within the HR function in Head Office and Northern Office. Bernie comes from a banking background, with a long career in undertaking both commercial and HR roles. She brings extensive HR experience to the INTO, having spent 15 years working exclusively in senior HR roles.
In her role, Bernie works with INTO's senior leadership team on all elements of formal HR policies and practices including employee engagement, HR development, CPD, recruitment and selection, workforce planning, employee/industrial relations and succession/talent management.
Bernie is a native of Dublin, originally from Santry now living in Portmarnock.
Aoife Mullen, Senior Official
A native of Dundalk, Aoife graduated from St. Patrick's College, Drumcondra with a B.Ed. in 2011. She taught in a broad spectrum of settings (including multi-denominational, DEIS, rural and small schools) before taking up an internship with the INTO in 2017. With an established history of working in media, in both Irish and English languages, Aoife holds a Diploma in Radio Production and completed a Certificate in Employment Law in 2019. Prior to her appointment as Official in INTO's Education, Research and Learning section, Aoife worked in the Conditions of Employment and Legal and Industrial Relations sections. As part of her current responsibilities, Aoife will work with the INTO Education Committee, represent the organisation on educational bodies, and develop the organisation's contributions to policy in the areas of special education, social inclusion and early years' education.

Sheila Murphy, Senior Official
Sheila is the Senior Official in the Legal, Industrial Relations and Equality Section. Sheila holds a B.Ed from St Patrick's College (Drumcondra), a graduate diploma in Special Educational Needs (UCD), a Master of Education (UCD) and a graduate diploma in Education Law and Practice (Law Society of Ireland). In her role Sheila provides advice, assistance and representation to members across a range of fora including the Teaching Council, Tusla and the Workplace Relations Commission.
Originally from Dublin, Sheila spent 13 years teaching in St Maelruain's Senior NS in Tallaght before joining INTO Head Office. During her time teaching, Sheila was also an activist with Tallaght branch and district 8 holding a range of roles including staff representative, district trainer and cathaoirleach of Tallaght branch.
John O'Brien, Senior Official
John is a native of Cork and previously worked in the insurance industry in both Cork and Dublin. He has been a life-long, active trade union member and served on the Irish Executive of the Amicus (now UNITE) Trade Union for many years. He completed a Diploma in Management & Employee Relations (NCI) and also served as a seconded full time union representative within the Irish Finance Sector before joining the INTO in January 2008.
John works in the Conditions of Employment Section in INTO Head Office and has wide-ranging responsibilities, including dealing with Pension & Retirement, Sick leave and related issues, such as the Salary Protection Scheme and the Employee Assistance Service. John is also the INTO Global Solidarity Officer, which includes responsibility for the development of the INTO Global Solidarity Network. He is a member of the INTO Global Citizenship School Steering Committee and represents the INTO on the ICTU Global Solidarity Committee, the Irish Forum for Global Education and the Education International, Capacity Building and Solidarity Network.