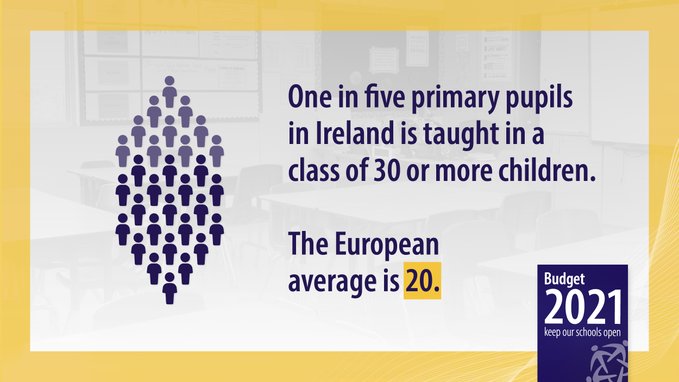 In 2020, an unprecedented pandemic hit the world. Here at home, our schools closed as the battle to contain the outbreak commenced. For months school teachers around the country set up ad hoc workspaces from their homes and sought to ensure the continuity of learning.
As work began to reopen our schools, the country became aware of a problem the INTO had raised repeatedly for many years. Ireland is home to supersized classes, the largest in the EU. This hindered our  ability to reopen and may very well be a reason some schools cannot remain open. We have to get our class sizes under control, with too many pupils learning in cramped classrooms of thirty pupils and more.
As we practice social distancing and attempt to keep pupils apart to contain the virus in our schools, we need to reduce our class sizes.
Why are we the worst in Europe?
While some previous budgets have lowered the numbers in classes pupil to teacher ratio in our schools, class sizes in Ireland remain well above the EU and OECD averages and there was no overall reduction in Budgets 2019 or 2020.
Ireland has the largest class sizes in the EU, with the European average class size of 20. Yet one in five primary pupils in Ireland is taught in a class of 30 or more children.
Why does this matter?
Younger children benefit greatly from smaller classes
– initial education lays the foundations for future learning, so smaller class sizes are especially valuable for the early years of education when children are developing literacy and numeracy skills. Evidence shows that children from disadvantaged backgrounds do better in smaller classes.
The complexity of the contemporary classroom is such that, with larger class sizes, teachers find it difficult to meet the broad spectrum of children's needs. When class numbers are of a more reasonable size, modern teaching methods work, and teachers can spend the time needed with children. The methodologies which are recommended are achievable in classes with smaller numbers and so the quality of teaching and learning is improved.
During a pandemic, which we may have to live with well into the future, our supersized classes pose serious challenges when it comes to social distancing. Our schools may not be able to keep their doors open if this is not tackled in the forthcoming budget.
Why are disadvantaged pupils losing out?
As part of the extra support package available to schools in the DEIS Scheme (Delivering Equality of Opportunity in Schools), there is a lower staffing schedule in DEIS Band 1 schools of 20:1 in junior schools, 22:1 in vertical schools (schools with junior and senior classes) and 24:1 in senior schools.
While there was a small reduction in general class size in Budgets 2016 and 2018, there was no corresponding reduction in our most disadvantaged schools.
The reduction in class size must be passed on to DEIS schools to provide supports for our most vulnerable children so that they may have the opportunity they deserve to achieve their educational potential.
Throughout the pandemic, we have heard time and time again that disadvantaged pupils have suffered the most from the closure of our schools. It's time to act.
It's time to lower our class sizes
INTO is calling for a reduction of at least one pupil per year in the staffing schedule over the lifetime of this government. The government must  deliver  on  its commitment to tackle our supersized classes and commit to this reduction in the forthcoming budget.
The cost of lowering primary school class sizes by one student is €4.8 million in 2021 and over the course of a full year amounts to €13.5 million in an education budget of €11 billion.
Source: Dáil Q&A no.170, 16 April 2019, Dáil Q&A no.534, 28 July 2020.
Add your voice to our campaign and ensure we can keep our schools open.
It's time to lower our class sizes.