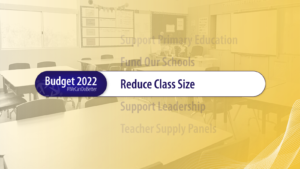 Reduce Class Sizes
Smaller classes support inclusion and diversity, allow for more individual attention and meet the ambition of our government to establish the best education system in Europe. Irish primary class sizes remain the largest in the European Union.
The average class size in Irish primary schools is over 23:1 compared to the EU average of 20 pupils per class.
85% of primary pupils are taught in classes above the European average and more than one seventh of pupils in our primary schools learn in a supersized classroom of more than 30 pupils. The falling demographics in primary schools present a unique opportunity to reach EU norms, through retention of the existing teacher numbers.
How much does it cost? It would cost €14.5 million in a full year and €4.8m in 2022 to reduce class sizes by one student. (Source: Dáil Q&A no. 406 and 407, 1 June 2021)