Impartial health insurance comparison service for INTO members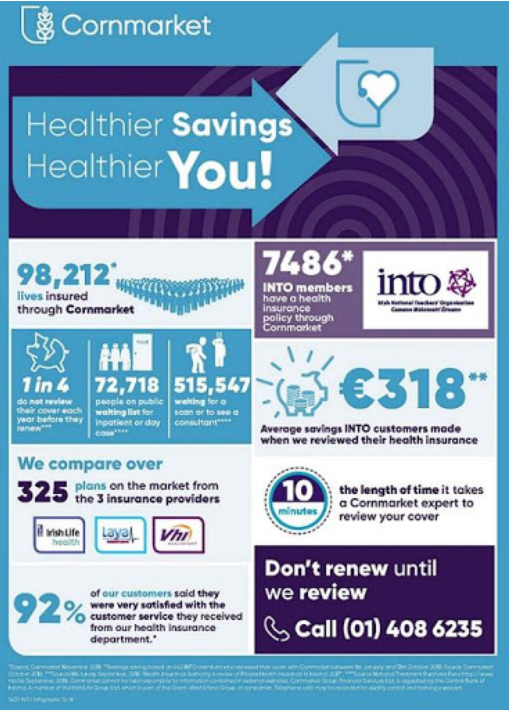 INTO is very pleased to announce that we are offering a Health Insurance Comparison Service again this year to all our members. This service, provided by Cornmarket, will help you to find the best health insurance cover at the most competitive price.
In 2018, INTO members who availed of this service and saved €318* on average, when they reviewed their cover with Cornmarket.
Health Insurance can be complicated and with over 325 plans available from the three insurance providers it can be difficult to compare cover options to see if you could get more comprehensive cover on a different plan at the same price, if not lower.
The good news is that Cornmarket have a team of experts who are available to help you shop around for the best deal. As in previous years, we have again negotiated a number of exclusive arrangements and discounts with the insurers and Cornmarket will include these options when reviewing your cover needs. Please note, that some of the exclusive discounts will only be available by setting your policy up with Cornmarket and that if you decide to set up your health insurance plan through Cornmarket, a fee may apply.
You can make direct contact with each of the providers or you can avail of the Health Insurance Comparison Service by contacting Cornmarket today on (01) 408 6217.
*Average saving based on 442 INTO members who reviewed their cover between 1st January and 31st October 2018. Source, Cornmarket 2018. Cornmarket Group Financial Services Ltd.is regulated by the Central Bank of Ireland. A member of the Irish Life Group Ltd. which is part of the Great-West Lifeco group of companies. Telephone calls may be recorded for quality control and training purposes.