The INTO awards a number of bursaries every year to members who are engaged in educational research.  
This year the INTO awarded three bursaries of €3,000 each for members studying at Doctorate level, and three bursaries of €1,500 each for members studying at Masters Level or similar. A total of 100 applications were received. Each application was considered by an independent assessor who was tasked with selecting the winners.  
The INTO bursaries were awarded by the General Secretary at the annual Consultative Conference on Education, which was held in Galway on 13 November 2021. Bursary winners from both 2020 and 2021 were invited to present their research at this year's conference as the 2020 ceremony was not held due to Covid restrictions at the time.  
Details for the 2022 scheme will be available in the Spring of 2022.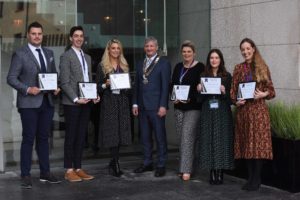 Mr David O'Callaghan – The Educational Experiences of Primary School children living in Direct Provision in Ireland.

Mr Stephen Rixon –

LGBTI+ Inclusive Leadership within Irish Primary Schools.

Ms Maria Noonan – Teacher experience and perception of pupil engagement while using a co-teaching approach to support pupils with special educational needs (SEN) in the development of early numeracy skills.
Ms Jemma Lynch –

The Real Deal: Exploring Authentic Leadership practice amongst Irish Primary School Leaders.

Ms 

Bebhinn

Carolan – Social and Emotional Learning – Effects of a SEL intervention on Teacher Wellbeing and Teacher-Student Relationships.

Ms Catriona Kennedy – Immersion Education: The Experience of Irish-Medium Primary Schools for Children with Down Syndrome and their Parents.