27 Sep 2019 - 28 Sep 2019
1:30pm
Tullamore Court Hotel
The INTO Biennial Principals' and Deputy Principals' Conference will take place on Friday 27th and Saturday 28th September 2019 in the Tullamore Court Hotel.
A webcast of the event will be available on Friday, 27 September from 2.30pm.
Conference Agenda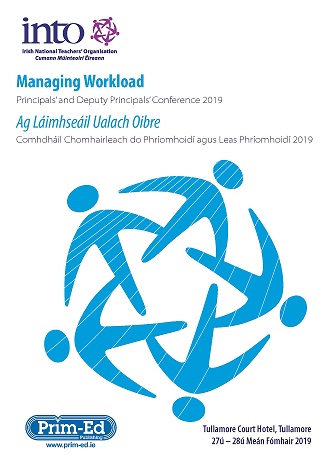 Registration
Registration opens at 1.30 pm on Friday, 27 September. The registration desk is located at the entrance, close to the car park. Please check your pre-populated delegate card, which is enclosed in your pack, prior to your arrival at the registration desk. Packs have been posted to all registered delegates. Please drop your delegate card into the boxes at the registration desk on the day. Please remember to select a workshop for Saturday morning.
Absence from school
The DES has given approval for leave of absence for delegates to attend the conference. A copy of the letter is available on the PDP Conference page on the INTO website and conference app. However, substitute cover is not available.
Letter from DES re PDC 2019 (pdf)
Conference Evaluation
Delegates will be contacted after the conference with a link to a short online questionnaire, for the purposes of evaluating the conference.
Car Parking
There is free car parking for conference delegates on-site at the back of the Tullamore Court Hotel.
INTO Conference app
The INTO Conference app will allow you to view the conference agenda, find your way to the conference venue (locations and map section), view press releases and speeches, and receive reminders of key events and news alerts during the event. The free app is available for Apple and Android devices.
INTO communication policy
Please be advised that photography, videography and/or live streaming will be taking place at this event. These materials may be used by INTO and included in publications, media materials, promotional materials, digital platforms and, social platforms. If you do not wish INTO to use your image, please go to the registration desk and inform staff. INTO can then take reasonable steps to comply with your wishes.
Wine reception
A wine reception will be held at 6.45 pm on Friday 27, in the main foyer of the hotel. The function is kindly sponsored by Comhar Linn INTO Credit Union. Please join us and continue the discussions.
Accommodation
Accommodation List – B&Bs (pdf)
Please note there is no accommodation available in the Tullamore Court Hotel for delegates, however, the hotel may be operating a waiting list.