Qatar Agrees To Key Campaign Demands!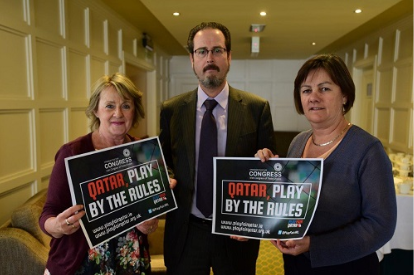 Pictured: Former Into President (2015/2016) – Emma Dineen, John O'Brien – Into Senior Official And Sheila Nunan – Former Into General Secretary
The INTO supports the Play Fair Qatar campaign to ensure that the human rights of migrant workers in Qatar for the preparation of the 2022 World Cup are not abused. To date, almost 1,400 World Cup workers have died in Qatar and many more have been injured and are paid as little as 62 cent an hour while some employers withhold wages. The Play Fair Qatar Campaign is making the case to corporate sponsors that
corporate social responsibility should apply not just to supply chains, but also to events they are paying for.
After years of campaigning, in which Irish trade union supporters of Playfair Ireland, including INTO, played their part, Qatar appears to have done the right thing. In a potentially ground-breaking deal, From Nov. 2017 the Government of Qatar has agreed wide-ranging reforms of its reviled kafala system – indeed, almost four years after they promised its abolition, it seems kafala's time is finally over.
More campaigns here: