Different Families, Same Love Resources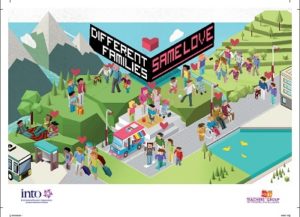 'Different Families Same Love' was created in response to requests from teachers for educational resources following publication of the Anti-Bullying Guidelines for Primary and Post-Primary Schools by the Department of Education and Skills (DES) in 2013.
'Different Families, Same Love' helps to support teachers to effectively implement the Anti-Bullying Procedures, with strategies to address homophobic and transphobic bullying. The resource includes good practice guidelines for inclusive schools, advice on class-appropriate use of language, and lesson ideas for all classes in primary school in line with SPHE curriculum objectives.
'Different Families, Same Love' was launched by the Minister of Education in 2015, is now recommended as an additional resource to teach SPHE and RSE on PDST's website, and is mentioned in the new Stay Safe curriculum that was updated in 2016.
The poster can be accessed below, along with Prezi presentations, lesson ideas, suggested resources for the classroom and much more.
Staffroom Resources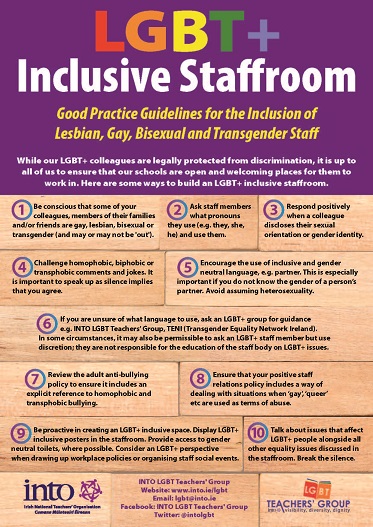 The INTO LGBT Teachers' Group recommends displaying the updated 'LGBT+ Inclusive Staffroom' guidelines prominently in your staffroom to create a positive and inclusive environment for LGBT members of staff, substitute teachers or visitors to your school.
Further Resources
RESPECT:  Creating a Welcoming and Positive School Climate to Prevent Homophobic and Transphobic Bullying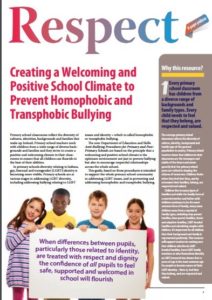 The RESPECT resource gives support to teachers and principals to ensure that their policies are up to date with the Anti Bullying Procedures, gives advice on addressing homophobic and transphobic bullying and also provides suggested approaches for different situations in the classroom, playground and in the staffroom.
Download Respect (PDF)
Meas – Leagan Gaeilge (PDF)
All Together Now!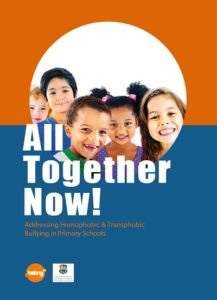 All Together Now! is an anti-bullying programme composed of four lessons based in the SPHE curriculum for 5th and 6th classes in primary schools. The lessons take an equality and human rights approach to respect, inclusion and homophobic and transphobic bullying.
The lesson plans for All Together Now include slides, scenarios, discussion questions and other tools for teaching pupils. The pupils are taught about types of identity-based bullying (based on the nine grounds of the Equality Acts and the DES Action Plan on Bullying.) They are also taught about bullying behaviours such as verbal, physical, cyber or social isolation.
Click here to access the All Together Now! programme.
We All Belong
This resource contains recommendations for books for all class levels that ensure representation of diverse families and examine gender expression and gender identity.  It also includes suggested questions and follow on activities.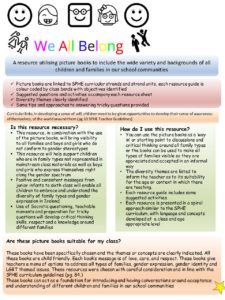 Download the We All Belong Resource
Other Useful Resources
You may also find useful information on the following webpages:
Still have questions?